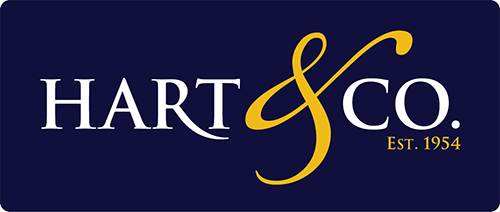 The highest level of service
---
At Hart & Co, we pride ourselves on providing the highest level of service. We specialise in sales, lettings and property management. Our doors first opened for business back in 1954, since then we have gone on to become not only one of West London's longest serving independent estate agency practices, but also one of the most respected. We have been providing an invaluable service to our local community for over 50 years and in this time we have built up an enviable reputation for excellence that we strive to maintain on a daily basis.

As with most things in life, with age, comes experience, over the years we have built up a vast amount of local knowledge which has helped us to constantly stay one step ahead of an ever changing property market. It is this wealth of local knowledge that not only has clients flocking to us in the first instants, but also enables us to continually service their needs year after year.
As members of The Property Ombudsman Scheme for Estate Agents (OEA), The Deposit Protection Scheme (DPS), and National Letting Scheme (NALS) you can be assured of our commitment to not only meet, but exceed their standards.

David Wilkins
---
Office Manager NW10 / Sales Manager


Born in Ireland and raised in North London whilst David is proud of his Irish roots he considers himself a Londoner first and foremost and loves the daily challenges of working in one of London's most diverse boroughs. David who manages our busy Harlesden office has over 32 years of experience in the industry and his "black book" of clients is the envy of his peers. When not working you will find David hacking around Ealing golf club or at his local gym.

Sharon Shankster
---
Office Manager Acton / Lettings Manager


Sharon is vastly experienced and has managed both the sales and lettings offices of some of West London's most premier estate agencies. As an Ealing and Acton native, she is used to leveraging her extensive network to push deals over the line. Her knowledge of London's lettings industry is second to none and her ever-approachable demeanour is a hit with tenants and landlords alike.

Anne Hodell
---
Administration Team Manager


Anne heads up our administration team for Lettings & Sales at our busy Acton office and is often our customers first point of contact, she is also responsible for managing & resolving property maintenance items for both landlords & tenants. Although relatively new to this sector she is relishing in the variety of challenges that this role presents, whilst enjoying learning all aspects of the business.

Louise Coleman
---
Administrator NW10 Office
Louise heads up our administration team at our busy Harlesden office and is often our customers first point of contact. Renowned for her fantastic sense of humour and bright personality Louise can make even the darkest days seem bright and is incredibly popular with both clients and colleagues. A native of West London When not working Louise enjoys long family walk in the great outdoors.
Adrien Padie
---
Sales Executive
Adrien is a pivotal part of the dynamic sales team at our Harlesden office and is renowned in the company for his tenacious approach.

As a rugby loving Frenchman he is well known for both his hard working ethic and charming gallic flair.

A native of the beautiful French city of Toulouse Adrien has been settled in London for many years and when not at work can be found in his local gym or enjoying a quiet pint of Guinness watching his beloved Liverpool.

Linas Daugela
---
Sales Executive


Growing up in the North West London, I started my lettings career in an independent agent in Ealing at 18. Property has always been my passion, my father has been in the industry his whole life and I always found an interest in the industry from a young age. After working in lettings for one year I decided to try the sales side of the industry in which I started my exciting journey with Hart & Co whose values fall in line with mine.

Zuzanna Pilarczyk
Senior Lettings Executive
Zuzanna was born in a small town in South Poland. After getting her Bachelor degree in Tourism and Master's in Management & HR; she decided to leave family home to travel. Lived in Greece and Ireland, she came to London 6 years ago.
Worked in customer service focus roles before, and looking for new challenges, Zuzanna decided to try working in estate agency. She loved since day one and it's been 6 years now. Having experience in West London area – Ealing, Acton, Harrow and Wembley area and now wouldn't do anything else! Everyday is a new experience and love meeting new people.
In private life, she love reading books, love nature, and spend time outdoors, hiking or discovering London and surroundings.
Very passionate about World War II and have very boring hobby of collecting stamps.
---

Anna Kinast
---
Lettings Executive


'After a long spell in the world of Learning I decided to make a complete change to Lettings in 2019. I've learnt a lot and every step has been rewarding, challenging and most of all enjoyable. I love meeting new people and finding properties that not only meet their requirements but that become a real home for them to enjoy.
I've lived in West London most of my life and couldn't imagine anywhere else as home, although I definitely have the travel bug and have spent many wonderful trips across Europe, the Americas, Africa and South East Asia.'